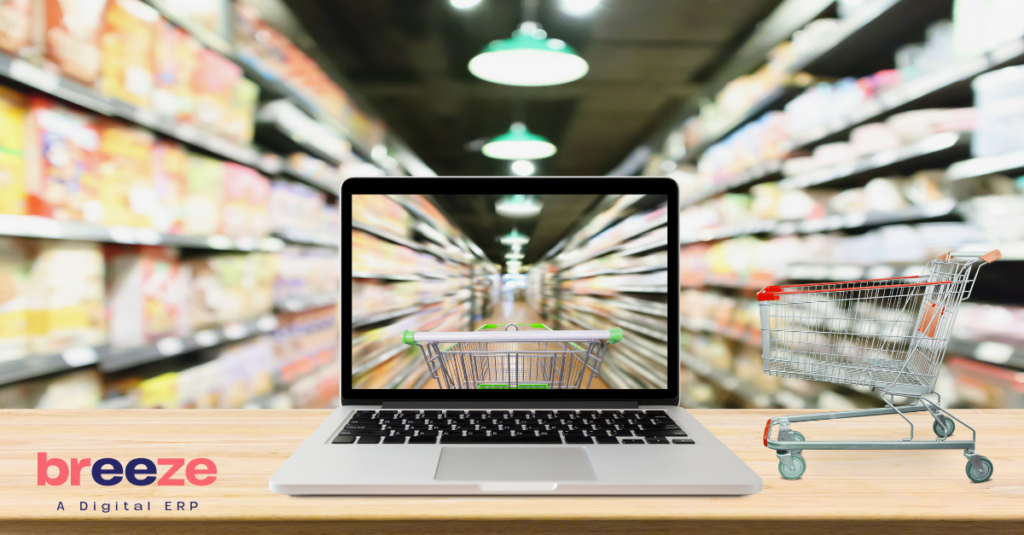 The importance of digital adoption in the retail industry has been realized by retailers post-pandemic. Most SMEs have gained online visibility through social media e-commerce websites and apps. According to a report by Bain and Company, the Indian e-retail market is expected to grow by $140 bn by FY 26.  As retail businesses are trying to reach their customers through an omnichannel strategy, it is fundamental to have each of these channels integrated in real-time with each other. This prevents delays in the supply chain and the end result is happy customers!
Many small businesses however do not integrate their online retail stores with ERP because of the high costs associated with business interruptions caused by modifying current systems. But with cloud ERP systems , e-commerce integrations are a fast, easy and scalable.
5 reasons why integrating your E-commerce with an ERP is the next logical step  :
To keep track of sales in real-time and make your customer experience more efficient, your ERP should support e-commerce integration. For instance, Breeze ERP supports Magento integration which helps reduce duplicate data entries, improves the speed of data exchange, streamlines inventory, customer data, shipping details between business systems.
Multi-location inventory tracking
When inventory is spread across multiple locations, warehouses and offices it is important to have a proper tracking system based on IMEI / Serial number. This data when synced across all business departments helps businesses achieve greater visibility and control.
Integrated Financial Statements
Usually, e-commerce applications have sales and basic financial reports generation features but integrating your e-commerce with ERP can helpyou produce balance sheets, P/L statements, cash flows etc, trial balances.
More Shipping choices to your customers
If you sell to different countries, ERP integration is very helpful. If you need to deliver to the international market, it might be necessary. Your customers will appreciate the speed and cost options.
More Control
Integrating your eCommerce store with ERP business processes not only helps you get better control of your business, but also gives you insight into which products are doing well and which aren't. This way you can make the required changes in your marketing and inventory management.
Predictive Search
Predictive search capabilities can lead to a better understanding of what customers want and how they behave, which in turn will allow you to provide a more customized experience for individual users. A new wave of predictive analytics features are being made available for cloud deployment, which is compatible with multiple e-commerce platforms.
Choosing the right software partner to bring about the integration of e-commerce with ERP is key to business success. Breeze, the digital-first cloud ERP,   a product of Indus Net Technologies, is a flexible ERP that can be customized according to your needs. Finding the best retail erp system can be a challenge, but our retail ERP consultants can help you make a well-informed decision.
Connect with us for a free demo today!