What is Cloud Accounting & How Does it Work?
Cloud accounting is no more a technical buzzword. It's basically everything you need for your business – invoicing, credit control, expenses, cash flow, VAT records, and management – into one simple package. Better still, you can manage it all on mobile if you want to. No more worries about data backup, software installation on desktop: Cloud Accounting gives you the freedom to run your business the way you want.
But a lot of businesses are still wary about taking the leap. A survey done on  140 Chartered Accountants of the Udaipur District, India revealed the common reasons why businesses might not be even considering the Cloud for Accounting.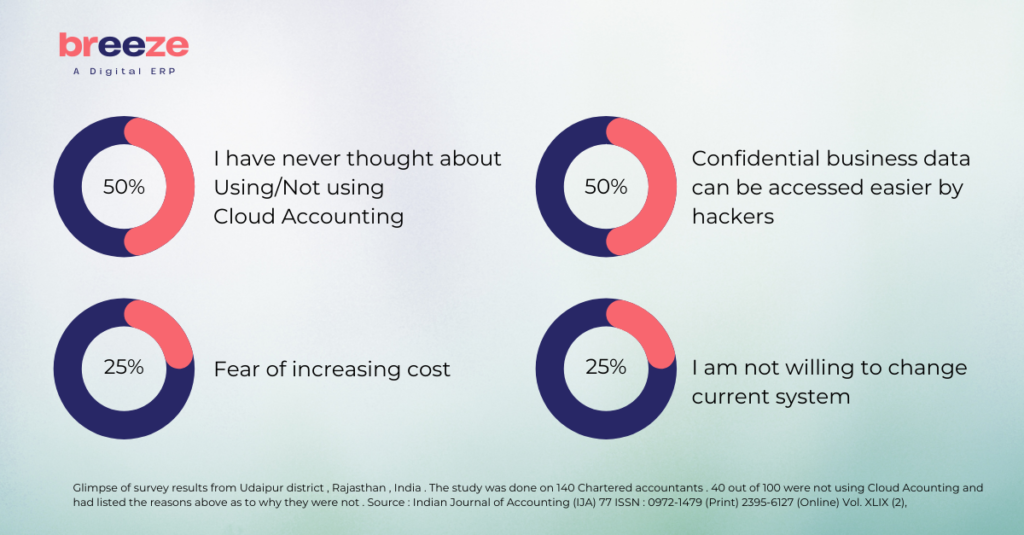 Why is cloud accounting good for business?
Taking the decision to adopt cloud-based accounting is the first step towards your business growth. Breeze refreshes some pointers why your decision will transform your business.
Instant scalability
Location Independent
Cost saving on Hardware
Cost Saving on Software
Cost Saving on IT Staff
Ability to address complex queries
No upfront investment 
Automation
Ability to facilitate a paperless environment
FAQs
Breeze answers commonly asked questions about Cloud Accounting which might be blurring your decision towards choosing cloud!
Is the Cloud Secure?
With the cloud, you're in charge of your own security with multi-factor authentication gateway and encryption
How will moving to the Cloud help cut down costs ?
When you invest in a cloud accounting system, you cut back on spending for servers and IT infrastructure. You are also able to reduce the number of maintenance fees for your software by being able to do most upgrades using the system platform itself.
How difficult is the software to use? Will my employees be comfortable using it?
A cloud accounting system with an easy-to-use UI will definitely be accepted by your employees as it will make their tasks easier and reduce repetitive tasks.  You can always take a demo of available cloud accounting software and decide on which one you like best!
Who would help me if I face issues while using a cloud accounting software?
Not all systems have dedicated support. Generic support will make you regret implementing the software. So look for ones with dedicated support. Breeze for example offers dedicated support to all its clients. 
What are the immediate benefits of using cloud accounting software?
Reduce internal frauds, be audit-ready , cut costs !
As a small business with tax filing issues , will cloud accounting help with tax issues?
One of the biggest issues with taxes is that people almost always miscalculate their finances (expenses and income). In terms of providing accurate financial information, yes, cloud accounting helps with that.
If in case I decide to discontinue my service provider , how would I get my data files ?
Yes, you can. To keep a copy of your financial data in a file, you can use a backup tool that is offered by the software provider. It will download a copy of your financial data in a specified.
Will cloud-based accounting software be the future of accounting software in India?
A lot of businesses especially in the retail industry have made the shift to the cloud. It is like a survival mechanism for the post-pandemic era. Small and medium. As per a NASSCOM study, there is a strong indication that over 60 percent of Indian SMBs have embraced cloud technology and 50 percent of other SMBs are still at an early stage of adoption, and there is a possibility that 15 percent.
What are the best Cloud accounting Softwares for my business?
To list a few, Breeze, Quickbooks, Xero, Freshbooks,  Busy, Wave, Zoho are good alternatives to traditional non-cloud systems like Tally. Stay tuned for a detailed comparative analysis of accounting software in India 2021 in our next blog.