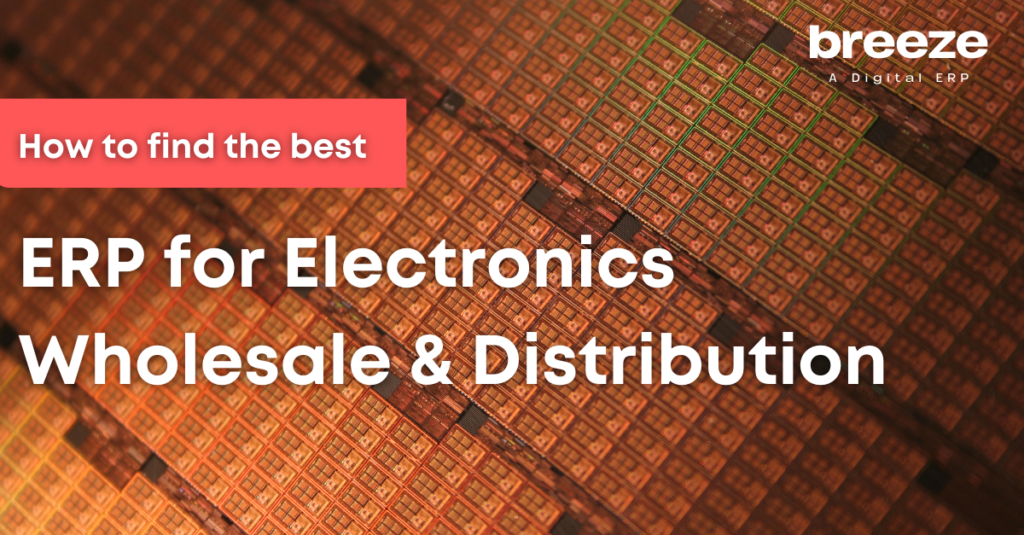 Post Covid-19 lockdown the electronics supply chain was under tremendous stress. But electronics manufacturing units are slowly speeding up operations. It is critical for electrical and lighting wholesale distributors to remain competitive, offer better prices, maintain quality, expand variety, maintain exemplary customer relationships, and ensure timely deliveries. But on the brighter side of things, India is all set to be the sourcing hub of electronic sub-assemblies and components with a lot of new domestic players entering the market. With time, the global electronics component shortage will also come to an end.
However, if wholesale and distribution businesses fail to become future-ready, they will be easily wiped out by their competitors and that will make a strong impact on the entire supply chain. We at Breeze are here to guide you on how to win the distribution game with an intelligent yet cost-effective solution.
ERP IS the Answer. But which one does your business require?
ERP specific to your business
Let's say, you are an electronics distributor with multiple brands in your portfolio operating in Tier-1/2/3 cities through 50+ branches pan India. A non-industry-specific ERP is a disaster because your business has multiple product varieties, multiple pricing structures, product catalogues and even different price-based or volume based discount percentages for your customers!
Customized fields in Inventory Management
As an electronics distributor, it's necessary to visualise and access your inventory from anywhere. An ERP with IMEI/Serial-based tracking, item wise profitability tracker, and features like minimum re-order level ( to prevent stockout and component availability issues) is ideal for electronics distribution.
Often a client uses a multi-vendor sourcing strategy for his/her company so delays due to improper inventory management can be detrimental to your business. For wholesale distributors with a B2B e-commerce platform, inventory data needs to be synced in real-time. Fine-tune your inventory with accurate forecasting tools provided by your ERP.
A CRM that doubles as a sales engine
Generic CRM modules cannot meet the requirements of electronics distribution. A customized CRM is key to build trust with your customers. Increase customer retention with marketing tools and maintain all customer records in a centralised system that can be auto-synced with Accounts and lot billing.
Automated Return process
For electronics distribution, warranty claims and complaints management is crucial. Choose an ERP with customized functions like warranty management and accurately track customer returns.
Control your tiered Customer pricing
Owing to different customer segments and massive product portfolios, electronics distribution businesses offer absolute or volume-based discounts to the customer(s). The ERP that you choose should support this tiered pricing.
Detailed dashboards to visualize data
Access all data from one platform and use intelligent dashboards to make decisions.
Breeze is a digital-first cloud ERP that is the best fit for your electronics warehouse distribution business. We have worked with leading electrical components distributors ( Click here for case study ) and relate to the problems that businesses face in this industry.
Want to explore? Start with a Breeze demo to know what we are talking about.