The importance of report writing is often overlooked as a critical step in an enterprise software implementation. Streamlining information is the primary goal of the ERP implementation, and both strategy and capable resources are required to achieve this goal.
We all know that having a database of information can be an important aspect of managing our businesses. In fact it's hard to imagine a business today that doesn't use some form of data management system or process.
BreezeERP
has a report directory of more than 1000 reports to choose from and configure for regular updates on your business. 
Having an ERP system is critical for business success in most industries. As powerful as having such a system may be – even more critical is being able to meaningfully use the data your system generates to provide insights that would help you in critical decision making. 
In the retail and trading industry, to successfully grow your business, it is essential to manage your inventory stock as accurately and optimally as possible. One way to do this is by using and understanding the right inventory management reports. 
We take the data in your data management systems and present it to you in ways that make it useful.
BreezeERP
reports allows you to continue using existing systems in a world of changing requirements.
Item fill rate – Percentage of products from a customer's order your business has shipped. The higher the item fill rate, the better the inventory performance.

Inventory accuracy – regular inventory count cycles ensures all stock is accounted for

Inventory turnover – the number of times inventory stock is replaced in a given period. The higher the rate, the better. It indicates that the inventory stock sits on the shelf for less time.
With
BreezeERP
, we will be able to help you run your business far better, providing useful insight that leads to lasting positive change – at a fraction of the cost it would take to modify your application itself.
Inventory On Hand: View in real time, the supply of goods or materials that a company has available for sale or use at a particular time
Stock Valuation, Trial & Aging reports: Valuation of stock in trade is very important and any businessman like you should have a clear understanding of stock market valuation that will help in taking the right decisions about investing.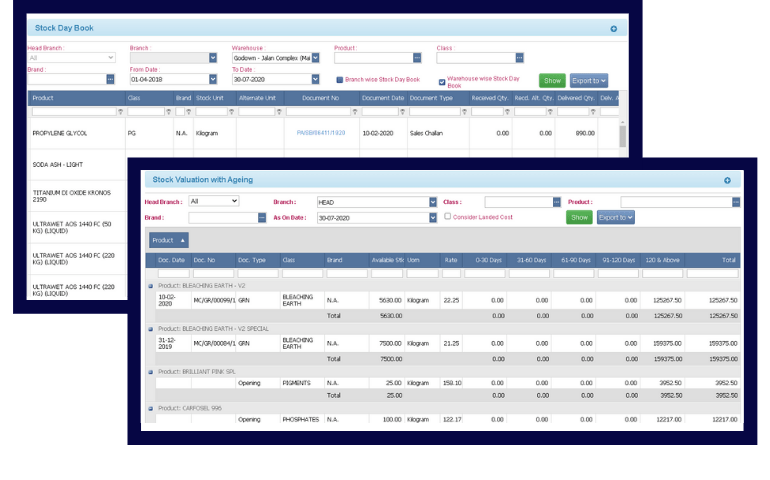 ABC Analysis: ABC analysis is an inventory categorization technique. ABC analysis divides an inventory into three categories—"A items" with very tight control and accurate records, "B items" with less tightly controlled and good records, and "C items" with the simplest controls possible and minimal records. With Breeze get ABC analysis in a click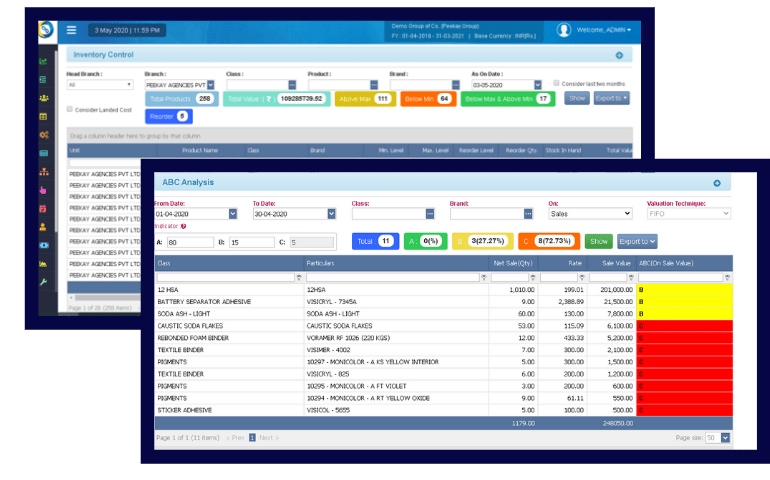 Inventory performance analysis: Extracting, analyzing, monitoring and reacting to relevant inventory ratios can help the business improve its performance, cash flow and profitability. With breeze get a real time dashboard of your inventory performance.