Take a step back for just 60 seconds and think how 'mobility' offered by your smart devices have changed and improved the efficiency of doing business. You use GPS to commute. You use mobile banking apps to check your expenses. You whatsapp to inform your clients or employees for ad-hoc tasks and so much more.
Mobility has made our tasks more easier, organised and accessible.
As per a
report by Spotio
"Over 50% of a field sales representative's time is spent planning and managing tasks, not actually selling to customers".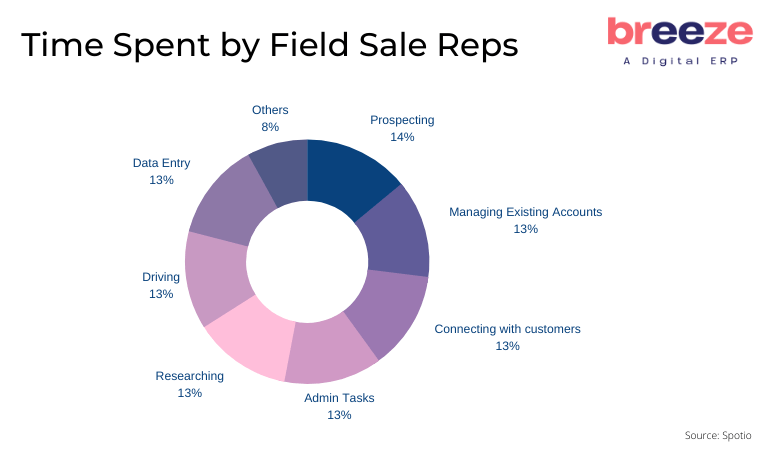 In India and around the world, the impact of the coronavirus pandemic is not limited to a few sectors but is evident across all stakeholders of the economy. However, it would be correct to say its retail that has taken the majority of the hit. In a country where 90% of the sector (retail) being unorganised, it has become imperative for business in retail, trading, distribution and inventory/wholesales to look for the right structure to sustain their business in this trying times.
The answer is simple "Adopt Digital!"
Organisations that has major part of their sales depending on door to door visit by sales reps has the opportunity to leverage mobility to gain an edge on their competitors in this market. As a decision maker of such an organisation it is important that you ask the right questions.
Can something be done so that your field agents waste less time travelling on the road than agents from other organisations?

Won't it help your field agents deliver better services if they are provided with the facility of integrating field data with enterprise systems in real-time?

Can you do away with the complexities of pen and paper culture and facilitate automated data capturing and uploading?

Can collaboration and visibility across all levels of the organisation be made more real-time and transparent?

Can the capabilities of a field agent go beyond the routine work of standard visits?
As a field sales manager, it is likely that you would have come across such problems related to schedule conflict issues, last-minute changes or improper time rotation between shifts.
With the use of powerful digital sales tools, you can improve your planning and operations and gain control over unexpected incidents.
Mobile-based solutions offered by field service software can support a field engineer to transform into a revenue-generating agent by equipping him with automated contract renewal and quote generation capabilities, onsite inventory visibility, real-time access to data, real-time order creation, retail audits, etc.
With BreezeFSM you can actually get a lot done to improve the efficiency of your sales team. You can:
Automated job-scheduling, based on filters like location proximity, technician availability etc.

Real-time visibility and updates to all stakeholders

Strengthened collaboration among field engineers

Reduced long billing cycle times

Improved workforce utilisation and productivity

Managing a shift from reactive maintenance to proactive maintenance

Offering a remote resolution of the problem

Service agents empowered with the right information at the right time

Reduced reliance on paperwork and elimination of unnecessary administrative tasks

Centralised data storing and real-time knowledge sharing capabilities
Connect with BreezeFSM Team and get a free demo now: https://breezeerp.in/fsm